Hasta el amanecer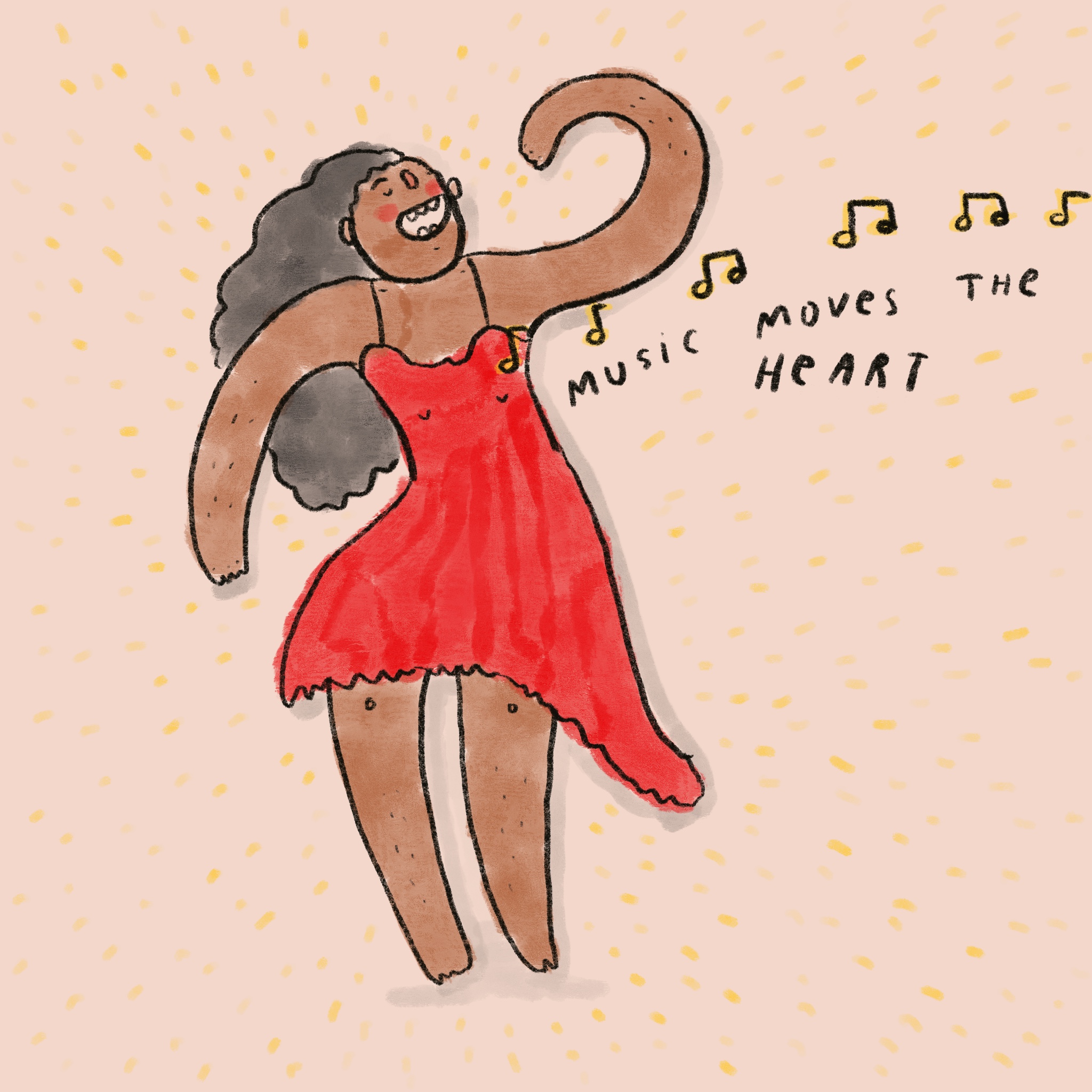 The sacred geometry of bodies orbiting one another, held in this tonal sphere, making gravity anew, can make my heart suddenly, preciously weightless. Tumbao plucked on the bass is a second heart pumping blood through tangled lineages tracing across Panamá, St. Vincent, Maracaibo, Aruba and countless ports unknown. La sangre llama–the blood calls, they say. The blood calls on me to remember the days in the car with my dad when the percussion and horns pushed against the windows and grew, propelling us as much as Daddy's foot on the gas. My fingers drummed on the door, the leather seats, against thighs. He found me getting lost in those sounds and guided me, clapping out the sharpness of the clave. Inside me, I danced. But in those rare moments when my father grabbed my hand at a party or at home, my feet were stone and didn't follow the steps. "Why you so stiff?" he chided. "Just dance!" But what I saw him doing was so foreign to me, and I felt a strange shame that I didn't know what he so clearly thought I should know. I was shy and wanted so much not to be.
Still, this music entered me and swelled 'til it pressed against my frame, wanting to get out. I clapped my hands, brought palms to thighs and that had to be enough, for a little while.
***
Salsa's history is one of migration, a track that traces a shape similar to the triangular trade. Hands clung to holy drums, clapped out sounds and named genres and dances in West African languages their tongues had half-forgotten but spirits had not. European instruments and the popularity of the North American big band were transmuted in casinos and cabarets across the Caribbean. And when it seemed like factories and shipyards allá, in New Jersey and New York City of the 1960s and 1970s could offer a better life, bueno–se fueron. Between shifts, musicians from barrios in Puerto Rico, Cuba and across Central and South America shared their rhythms and stories. People whirled together at dances where the crowds shouted, "Salsa! Salsa!" because the bands were hot, on fire; they played familiar, soul-sustaining rhythms faster than ever, force and friction heating up cold northern nights to temperatures that warmed the skin like the sun back home.
Now, it seems the most logical thing in the world. This city of immigrant dreams was the perfect crucible for forging what we now call salsa. And what is more Black, and Blackly beautiful, than using what you've just barely held onto to create something new and necessary?
***
I became a salsera in New York, too. Took classes after work, when I finally had work, and then took off on my own, sometimes dancing three and four nights a week. Though he was 200 miles away in Massachusetts, I used to think about finally dancing with my father, but I felt my feet dancing down deeper, older paths, too. I danced my way to cousins in Panama, related to the mother who, because of her own troubles, could not be the kind of mother who could teach me what my waist needed to know. Those cousins, who describe themselves as having skin the color of Coca-Cola, danced so happily with me, their prima de allá, to songs about us: las caras lindas, azúcar negra, dulce como el melao. And it is sweet, that though my tongue trips over Spanish words, my feet have caught up and now keep time with my heart. ¡Ella sí baila, con vueltas y to'! I whirl and laugh inside songs of longing, love and celebration that echo through centuries.
That is blood calling. Across oceans and time, from barrios to banquet halls to ballrooms and back again: the sacred partnered with the profane, stepping and spinning into the profound joy that feeds me. On the days I'm pressed to my mattress by a spirit-ache unspeakable and heavy, responding to that call is the only thing that will get me from my bed.
"You look so happy when you dance."
And I am happy, so happy, for those hours. More than that: I am relieved, I am deliciously spent when I get home, skin prickling with after-sweat chill. Tucked into my bed, I buzz with the bass still in my ears. Ready for sleep that is for restoration, not escape.
Sometimes after nights like these, I oversleep for work. But holding this moving vigil hasta el amanecer is worth more than appeasing those who would pass judgment. They don't understand that it is because I dance that I can still drag my feet down the subway steeps, to that office: that these bailes are my salvation.