Cicada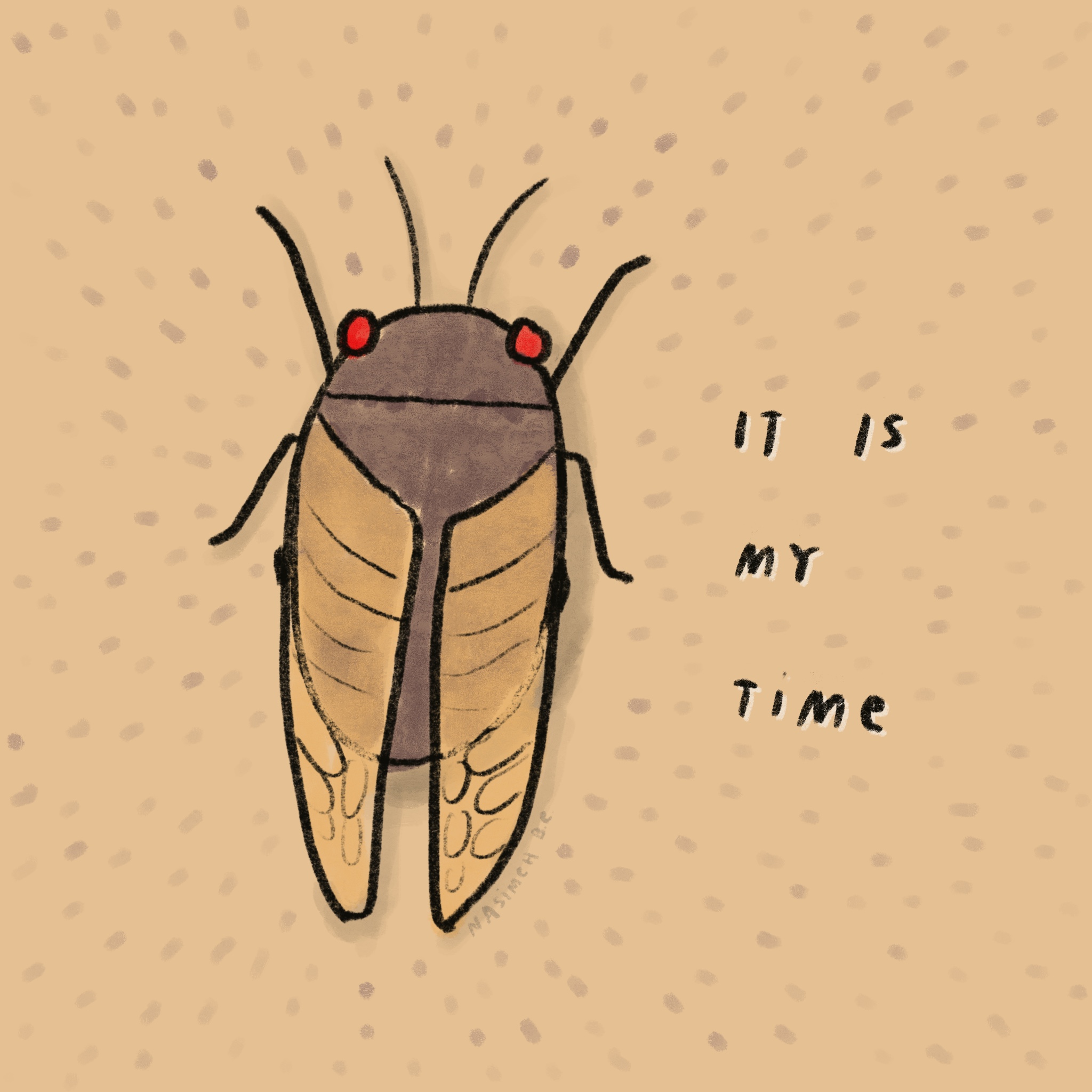 I do not live in California. I do not now, nor have I ever. I think it's important that you know that. Just to be clear, I've been to California. Northern. Southern. The first time I ever saw those towering wind turbines was in California. I just have never, nor could I ever, live there.
I'm a Midwesterner. Through and through. A northerner. Don't ask me where from. If I told you, it would change the story. And I don't want to do that.
This story is about a cicada. Many cicadas. The one cicada that can represent the many. Their solidarity is impressive in that way. Not that they mean it. I have no idea what they mean. I just know a single cicada's life can be representative of the life of any cicada.
My first experience with the cicada was my senior year in high school. You couldn't walk down the street without crunching their sloughed exoskeletons. You couldn't go for a drive without squishing their guts out onto the pavement. You had to drive like it was winter.
The boys in my high school dared each other to eat the cicada whole. And they did. I was outside on the front lawn, ditching Spanish class and playing hackey sack when Eric Borowitz was the first to make good on the dare. He ate it. Ate it whole. No chocolate. No chaser. Whole. Beady red eyes right down the gizzard.
Then he did a standing back flip, because he was on the gymnastics team, and he could do that.
Of the one hundred and fifty-three species of cicadas that live in the United States, approximately sixty-five are known to occur in California. I find that interesting. No one that I know who lives or has lived in California ever talks about the cicada, yet everyone I know who lives or has lived in the Midwest and on the East Coast does. I wonder why that is.
If you live, or have lived, in California, and you like to talk about cicadas, maybe you could let me know. I might like to hear about it.
I was in California the next time the cicada came. I didn't see them. Really, I was in Nevada, driving south on US-95 heading for Beatty. I wanted to see Death Valley, and so I did.
Back home, the cicada was on the verge of emerging again. It had been feeding on the roots underground. It had been tunneling, too. I find that interesting. In the last 17 years since my senior year in high school, the cicada had been creating a network of tunnels right under our feet. And next to no one, including me, ever gave it a single thought, much less a second.
I was in between jobs. Some people would have said I was in crisis, but I don't like to put labels on things. I just knew that it was a good time to get into my car and drive.
So I did. I cut across the northern states along I-90, heading west towards the increasing mystery and majesty of the landscape. I took my time. I stopped. I got out. The Badlands. Wall Drug. Mt. Rushmore. Little Bighorn Battlefield.
I love driving. I love driving alone. It's the most religious experience I've ever had. I'm not religious. Not even spiritual. But still. It's that kind of an experience. But only on those lone western roads. And only when I'm alone.
In Seattle, I-90 met I-5, and it was time to head south. From there I zig-zagged. I-84 east to Boise, Idaho. US-93 south to Ely, Nevada. US-6 west to US-95 south to Beatty, Nevada. Finally, I had arrived.
It was afternoon when I checked into a motel that looked like it hadn't been updated since the 1980s, but the room was big and it felt good to pace the room a bit, stretch my legs after so much driving.
There was still enough daylight for me to venture across the state line and into the park. I wandered into an old mining outpost. The old wooden structures still standing. A single room house here. A blacksmith shop there. Or so I thought.
When I got back to my room, I called the man I thought was my boyfriend. I told him about the old mining town. I told him it fascinated me. I could feel the history. I could feel the desperation, the expectation, the hope.
"Mining towns weren't built to last," he said. He was smart. The intellectual type. Sometimes I didn't understand what he said.
"There's no way it's real," he continued. "It has to be a recreation."
I didn't agree with him, but I let it go. I didn't feel like fighting. Plus, I knew he would manage to bring up a point I wouldn't know how to counter. Some random date. An obscure fact. So really, there was no point, and I didn't feel like feeling stupid.
The next day, I ventured further into the park. I walked along huge, cresting sand dunes. I hiked the edges of a crater, the path spotted with warning signs urging, 'Use Caution Near the Edge! Footing can be dangerous," with a picture of a man falling off the edge. His hands and feet reaching towards the sky, butt towards the unseen depths below. He looked more like a man bouncing off a trampoline, his hands and feet reaching towards the sky in glee, rather than a man plummeting towards an accidental death.
I thought about the cicada then. How if it fell off the edge, it would burrow in the sands below. Then I thought if it did burrow, it would have no roots to eat. This land was dry, an open wound in the earth. But not the cicada back home. It was out now, free of its old skin, its wings inflated with fluid. It was ready to begin its brief adult life.