Cake By The Ocean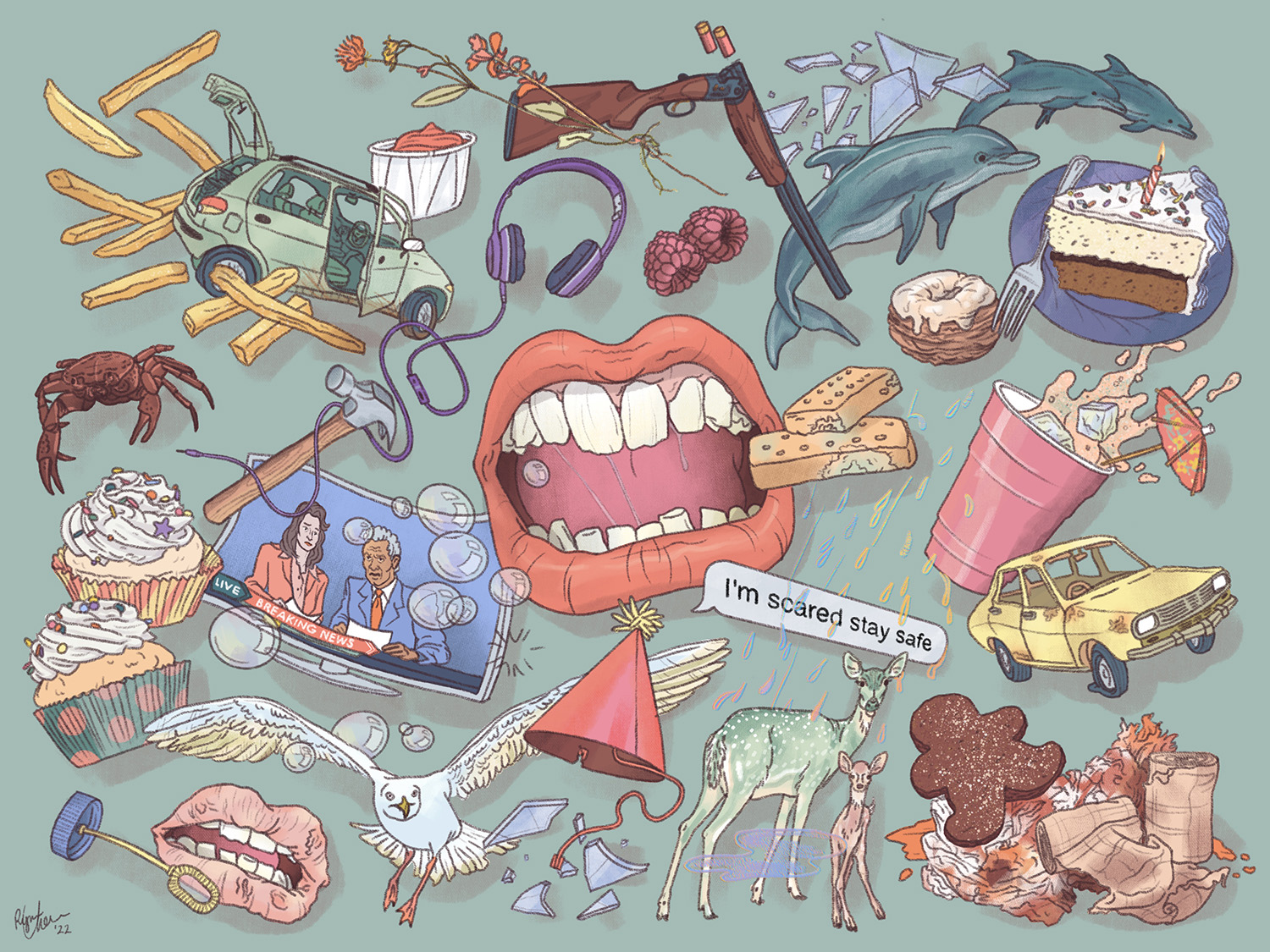 A piece of birthday cake in Dublin. A red party hat with a snapped elastic band. Limp balloon rags with the number 5 printed on the plastic. A bountiful harvest of wrapping paper. Two aunts, doubled over laughing, spilling fizzy drinks.
A raspberry sorbet in Majorca. Chapped lips. Heat shimmers on wavy pavements. Thick smears of suntan lotion. A late curfew. A boy who smelled like the liquid mixture used to blow bubbles. The first grains of sexuality, trickling downwards.
A torn hunk of Victoria Sponge on Blackpool beach, following too-hot chips and tomato ketchup. Windblown hair. Seagulls squalling, syncopated, over tinny fairground music. A group of teen friends already growing apart.
Something chocolatey and unpronounceable in Normandy. Someone else's headphones, thudding like twin hearts. A girl with a thin eyebrow scar. A long train ride to an unfamiliar, warm bed. A promise quickly broken.
A cronut in New York. Vaped cotton candy breath. Ice clinking against a frosted glass. Knee-bones kissing under a small table. A connection spanning distance and time. Familiar, green-needle perfume. Nervous-eyed newscasters reading headlines with placid lips.
Two frosted vanilla cupcakes in Shannon. A text received; Babe I miss you already. Fights in the bus depot. Broken glass underfoot, crunchy and pale as January frost. Streaks of dried brown blood on the linoleum floor. A text received; I'm scared stay safe I'm so scared I wish you hadn't left I don't know what I'm gonna do okay always remember that I love you I love you always forever I swear I love I love
Spiced gingerbread in Dublin city centre. Abandoned cars. Empty streets. A hammer hooked into a belt loop, just in case. A lack of cell phone signal. The weasel-bite of panic, nipping constantly.
Black forest gateaux in a seaside cafe. Shop doors, as wide open as coughing mouths. Occasional twisted bodies, scuttling like crabs. No broadcasts on any TV or radio channels. A light, drizzling rain. A reason to use the hammer, twice.
Two mouldy shortbread fingers on a ferry. A crumpled map. A badly-bandaged wound, leaking relief. Calm green ocean on all sides. A pod of dolphins, competing for most spectacular jump. A smile―almost.
Stale scones in the Scottish highlands. Fresh milk. A herd of deer, more curious than afraid. Loneliness, thicker than the down-feather winter coat in the closet. A farmer's gun. Plenty of time to practice. Nothing left but memories.